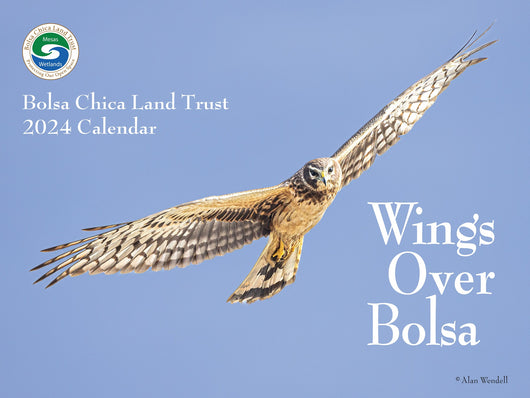 2024 Wings Over Bolsa Calendar
Regular price $15.00 Sale
$15 donation
5-Pack SPECIAL
(buy 4 calendars, get 1 free) --automatic discount in checkout when you add 5 calendars to your cart

Stunning full-color photos of Birds and Wildlife at the Bolsa Chica Ecological Reserve.
13-month format with educational bird facts, major holidays, and BCLT's monthly free tours and volunteering opportunities at the Bolsa Chica Wetlands included.
Printed locally in Orange County, CA with soy ink and partially recycled paper.
Great for Holiday Gifts!
Order yours today!
**Free shipping for the calendar
*all donations include a membership to the Bolsa Chica Land Trust
 The Bolsa Chica Land Trust is a Non-Profit, 501(c)3 organization. All donations are tax deductible to the extent allowed by law. Our tax ID# 33-0516059. All financial contributions and donor information is secure and safe. BCLT does not share individual donor information unless required to by law.